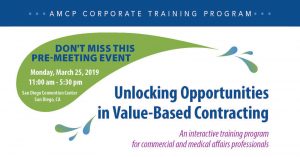 Continuing to provide the highest level of thought leadership to healthcare innovators, Precision has been asked by the AMCP to lead a special corporate training program on unlocking opportunities in value-based contracting.
Hosted by the AMCP in collaboration with Precision Xtract, this unique half-day interactive training program will be led by Precision's Stephen Carter and will take place on Monday, March 25 from 11:00am – 5:30pm at the San Diego Convention Center. The workshop will assemble managed care and health plan experts to explore different types of value-based contracts, including those employing real world evidence, as well as the keys to developing successful, implementable value-based arrangements, and the pitfalls to avoid.
For more information about the workshop, or to register to attend, please download the attached flyer.